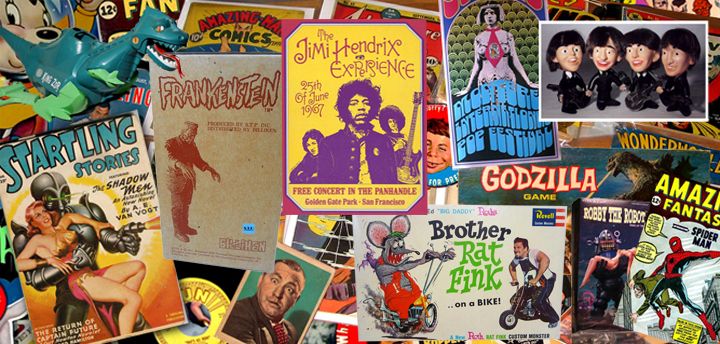 GOT COOL STUFF? NEED SOME EXTRA CASH? Those are two perfect reasons to contact us! If you're wondering what type of merchandise we might be looking for, you can get a pretty good idea by exploring our site, but here are some specific areas we are especially interested in:
Almost ANY vintage ORIGINAL ARTWORK (especially covers of COMICS, MONSTER, CHEESECAKE and ENTERTAINMENT MAGAZINES as well as ADVERTISING ART, interior book and magazine ILLUSTRATIONS), vintage high-end COMIC BOOKS (mainly Silver & Golden Age) and NON-SPORTS CARDS (pre-1970), PULP MAGAZINES and BIG LITTLE BOOKS (pre-1950). Original issue MODEL KITS: Anything by ED "BIG DADDY" ROTH, BILLIKEN and original AURORA MONSTER, MAD & SUPERHERO MODELS. We also have a special affinity for 1950's, 60's, 70's and 80's CHARACTER TOYS, (cartoon and advertising characters, monsters, robots, etc.) and PAPER PRODUCTS such as VINTAGE MUSIC & MOVIE POSTERS, HANDBILLS, LOBBY CARDS and ASSOCIATED MEMORABILIA.
If you have items you think we might be interested in, start by contacting us via email (frank@popdaddyvintage.com) and letting us know what you have. (Feel free to attach a good photo of your items if it's convenient.) We will let you know if we have any interest or questions at that time. You can also come into our store, located INSIDE Park Place Vintage at 1318 Lincoln Ave. in San Jose. Ask for Frank. The phone number is: 408-294-9893.
THANKS FOR SHOPPING WITH POP DADDY!